Service & Sales Culture
Many of our clients have worked with and enthusiastically recommend Michael Neill & Associates, Inc.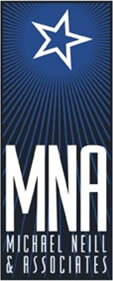 Exceptional Service Starts with ServiStar
Great service is more than a smile. More than a pleasant greeting and positive attitude. It's listening, not just hearing. It's anticipating, not just receiving. Excellent member service should be the defining characteristic of every credit union. Developing a team of sales and service superstars starts now with ServiStar.
Michael Neill & Associates in partnership with CUES bring you the most comprehensive, consultation based service program available. ServiStar is designed exclusively for credit unions. Through a unique, customized program, ServiStar gives your credit union a powerful, step-by-step blueprint for change.
Click here to view details of this revolutionary program that spans 18 months.
Or visit our website at www.michaelneill.com for more information on how we can assist your credit union.
Turn your employees into Sales and Service Superstars with ServiStar from Michael Neill & Associates!